Latest topics
»
online spybot and server bots
by
mr.pitza@n.c
Thu Dec 13, 2018 3:54 am
»
lotfan age momkene rahnemaii konid
by
mr.pitza@n.c
Tue Mar 27, 2018 12:39 pm
»
Taknimbuzz Online Bots (Room manager)
by
mr.pitza@n.c
Tue Mar 27, 2018 12:36 pm
»
hi freAnds
by
mr.pitza@n.c
Tue Mar 27, 2018 12:34 pm
»
King Super Pv Bot Coded By boy,17 Fourmul@n.c
by
fourmul
Wed Mar 04, 2015 6:04 pm
»
King Online Server Anti Hacking V1.0 Coded By boy,17 Fourmul@n.c
by
fourmul
Wed Mar 04, 2015 5:30 pm
»
WIN AD DC
by
KINGADE75
Sat Jan 31, 2015 5:25 am
»
اجاره سرور openfire ایران
by
sahands1
Fri Jan 23, 2015 9:17 am
»
T*R*O*J*A*N In ID Maker
by
reza2328@n.c
Tue Oct 07, 2014 4:19 am
»
Unblock ID, Unremove ID, Recovery ID hacked [ KPV Support V 2.0 ]
by
mr.pitza@n.c
Sat Sep 06, 2014 3:21 am
»
ZEDBUZZ Flooder 4 mob
by
mr.pitza@n.c
Sat Sep 06, 2014 3:20 am
»
Sourse ID Remover In Server
by
mr.pitza@n.c
Sun Aug 24, 2014 6:31 am
»
Freebuzz TeaM Thunder Add List Sender full speed rasolahwazi
by
mr.pitza@n.c
Sun Aug 24, 2014 6:30 am
»
[BadBuzz] ANTI HĂČĶĨŃĞ [V 2.0.1]
by
mr.pitza@n.c
Sun Aug 24, 2014 6:30 am
»
soal dar morede mechanism logine DIGEST-MD5
by
mr.pitza@n.c
Sun Aug 24, 2014 6:28 am
»
[BadBuzz] SnapDragon Add Flooder V2.3
by
mr.pitza@n.c
Sun Aug 24, 2014 6:27 am
»
Taknimbuzz Room Flooder v1 Full Speed ( Updated )
by
mr.pitza@n.c
Sun Aug 24, 2014 6:27 am
»
S2A Sender Full Option & Add Fixer By BadSalighe@N.C & .ZaMiN@N.C
by
mr.pitza@n.c
Sun Jun 29, 2014 6:18 am
»
peji RooM Bot V1 With Full remoter BY pejman nikravan(be hamrah pdf amozeshi)
by
mr.pitza@n.c
Sun Jun 29, 2014 6:17 am
»
creat symbol id
by
mr.pitza@n.c
Sun Jun 29, 2014 6:15 am
»
Link hay Avatar
by
mr.pitza@n.c
Sun Jun 29, 2014 6:14 am
»
Hiiiiiiiiiiiiiiiii
by
mr.pitza@n.c
Sun Jun 29, 2014 6:13 am
»
دانلوداهنگ امیرمحمد آقاسلام
by
mr.pitza@n.c
Fri May 23, 2014 5:55 am
»
new kung fu flood
by
mr.pitza@n.c
Thu Apr 24, 2014 9:41 pm
»
بهترین بمبوس اندروید TinyMod v2.0
by
mr.pitza@n.c
Tue Apr 22, 2014 7:28 pm

ba slm
Omid bar in ast k haletun khub bashe
bdun moqadame mirm sr asl mtlb
h_a_c_k_buzz & chatbuzz K!NG 7 flooder and freezer with remoter
khob taqirat asli soft ro molaheze k0nid
1.remoter lag dasht ver qabli alan be rahati va ba hi4 khatai mitunid us konid .
2.kar ba remoter asun shode , tu ver qabli kar ba remoter ykm gong bud baratun .
3.tu tanzim speed ver qabl dustan nmidunsn chto tanzim konn ,msln join/lefto va snd pmo 10
mizashtn k baes ja mundan id tu room mishod, ala 5 gozine vase tanzim speed flod ya freez hs .
4.tu version qabli qabliat save nadash ,in ver ezafe shode .
5.End Text Flood Msg, hamun txt rom msg hs tu ver qabli ba click ye btn emal mijod vali tu in ver niazi b btn nadarin .
6.ezafe shodn get room user "moshahede tedad va nam usera" .
7.tu v 1,2,3,4,5,6 bade flood dadn b modat 30-50 min soft hang mikarde,k Tu in ver lag giri shode va hamchin moshkli nadare .
8.ezafe shodn room searcher .
9.Support kardn id = pw
Ina taqirat nsbat b versionaye qabli budn
hala tozihat (general) :
1.flooder
2.freezer
3.auto flood Or freez
* karesh chie: kare in option in hs k ye zamani midi bh6 msln saat 10,alanm farz saat 9 hst,vaqti timo set kardi ta saat 10 flod ya freez mikone va dar saat 10 flod stop mishe
  shoma mitunid tanzim k0nid k bade etmam flod ch kari b0k0ne
  ke daraye 2 gozine hs, dis connect va trun off pc .
4.auto flood or Freez
* karesh chie : msln shoma mikhian 5ta room ro flood k0nin,inja mitunid esm un 5ta roomo bnvisid va ye time (sanie) bedin k har roomo chand sanie ya daqiq flod ya freez kone.
5.Change Text Flood
* karesh chie : shoma mituni dar in gsmat az 10 no txt flod amade us konid
shoma mitunid tu gsmat "Auto Change txt" zaman bdid(sanie) k teye un zaman auto change mikone txt floodtuno .
6.soft 2zaban Eng. va farsi dare .
7.age Range pas zmine Soft del nshin nis mitunid rang dlkhahtun ro entkhab konid .
8.Bazi emkanat kuchak hs k ebarat ast az Check connect,Disconnect,show ip and host name,restart soft,load id flood in your computer"txt" format,
reconnect dashtn remoter,auto accept dashtn remoter,top most"hamishe balae safeha" .
khob Tozihat Ended , omidvaram soft mord pasandtun baje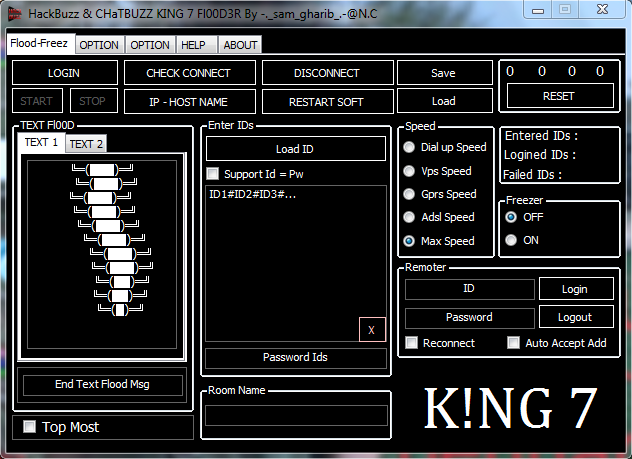 http://s2.picofile.com/file/7928549458/screen1.png
http://s2.picofile.com/file/7928550642/screen2.png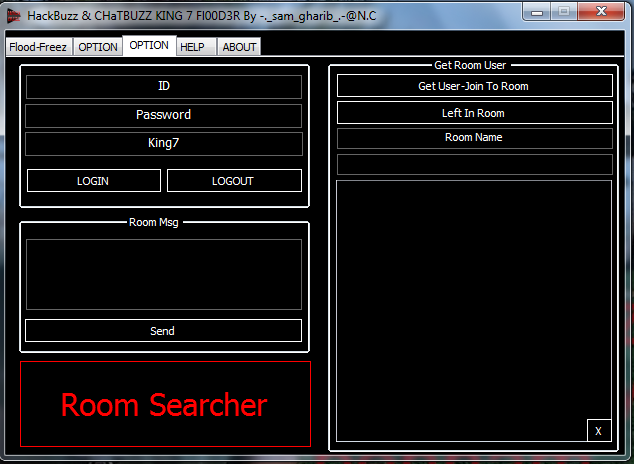 http://s4.picofile.com/file/7928551391/screen3.png
http://s2.picofile.com/file/7928551826/screen4.png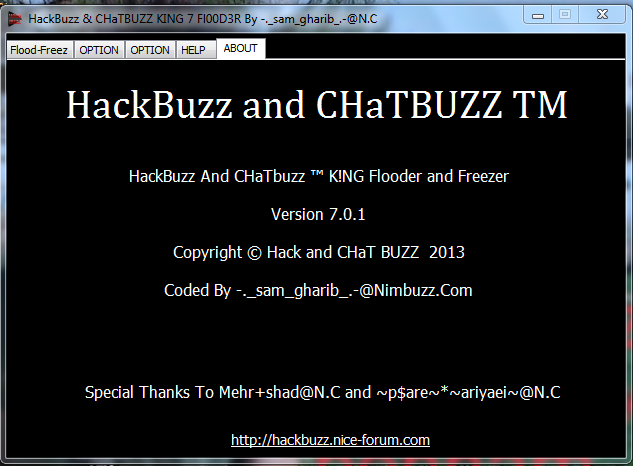 http://s3.picofile.com/file/7928552575/screen5.png
scan file:
https://www.virustotal.com/fa/file/1aafa61b9e7c8ac33ff2d0798207ca91b510b8902e063bcb6fc49eadaecf2e60/analysis/1378668641/
download:
http://s1.picofile.com/file/7928537418/h_a_c_k_buzz_K_NG_7_flooder_and_freezer_with_remoter.rar.html
Ba tashakor az :
Mehr+shad@nim
~p$are~*~ariyaei~@nim
Member





Posts

: 4


Join date

: 2013-07-19


nimbuzz id

: -._salvl_gharib_.-


ASL

: afshin
Job/hobbies : سافت نویسی




---
Permissions in this forum:
You
cannot
reply to topics in this forum