Latest topics
»
online spybot and server bots
by
mr.pitza@n.c
Thu Dec 13, 2018 3:54 am
»
lotfan age momkene rahnemaii konid
by
mr.pitza@n.c
Tue Mar 27, 2018 12:39 pm
»
Taknimbuzz Online Bots (Room manager)
by
mr.pitza@n.c
Tue Mar 27, 2018 12:36 pm
»
hi freAnds
by
mr.pitza@n.c
Tue Mar 27, 2018 12:34 pm
»
King Super Pv Bot Coded By boy,17 Fourmul@n.c
by
fourmul
Wed Mar 04, 2015 6:04 pm
»
King Online Server Anti Hacking V1.0 Coded By boy,17 Fourmul@n.c
by
fourmul
Wed Mar 04, 2015 5:30 pm
»
WIN AD DC
by
KINGADE75
Sat Jan 31, 2015 5:25 am
»
اجاره سرور openfire ایران
by
sahands1
Fri Jan 23, 2015 9:17 am
»
T*R*O*J*A*N In ID Maker
by
reza2328@n.c
Tue Oct 07, 2014 4:19 am
»
Unblock ID, Unremove ID, Recovery ID hacked [ KPV Support V 2.0 ]
by
mr.pitza@n.c
Sat Sep 06, 2014 3:21 am
»
ZEDBUZZ Flooder 4 mob
by
mr.pitza@n.c
Sat Sep 06, 2014 3:20 am
»
Sourse ID Remover In Server
by
mr.pitza@n.c
Sun Aug 24, 2014 6:31 am
»
Freebuzz TeaM Thunder Add List Sender full speed rasolahwazi
by
mr.pitza@n.c
Sun Aug 24, 2014 6:30 am
»
[BadBuzz] ANTI HĂČĶĨŃĞ [V 2.0.1]
by
mr.pitza@n.c
Sun Aug 24, 2014 6:30 am
»
soal dar morede mechanism logine DIGEST-MD5
by
mr.pitza@n.c
Sun Aug 24, 2014 6:28 am
»
[BadBuzz] SnapDragon Add Flooder V2.3
by
mr.pitza@n.c
Sun Aug 24, 2014 6:27 am
»
Taknimbuzz Room Flooder v1 Full Speed ( Updated )
by
mr.pitza@n.c
Sun Aug 24, 2014 6:27 am
»
S2A Sender Full Option & Add Fixer By BadSalighe@N.C & .ZaMiN@N.C
by
mr.pitza@n.c
Sun Jun 29, 2014 6:18 am
»
peji RooM Bot V1 With Full remoter BY pejman nikravan(be hamrah pdf amozeshi)
by
mr.pitza@n.c
Sun Jun 29, 2014 6:17 am
»
creat symbol id
by
mr.pitza@n.c
Sun Jun 29, 2014 6:15 am
»
Link hay Avatar
by
mr.pitza@n.c
Sun Jun 29, 2014 6:14 am
»
Hiiiiiiiiiiiiiiiii
by
mr.pitza@n.c
Sun Jun 29, 2014 6:13 am
»
دانلوداهنگ امیرمحمد آقاسلام
by
mr.pitza@n.c
Fri May 23, 2014 5:55 am
»
new kung fu flood
by
mr.pitza@n.c
Thu Apr 24, 2014 9:41 pm
»
بهترین بمبوس اندروید TinyMod v2.0
by
mr.pitza@n.c
Tue Apr 22, 2014 7:28 pm

copy az badbuzz
HI TM
inam new id makere badbuzz!
1- load har chandta captcha k bekhayn!
2- add flod kardane id morede nazar b vasileye id haye sakhte shode!
3- set kardane profile baraye id b manzoore jelogiri az block!
4- check kardane tamame id ha! va zakhire id haye vaqean salem!
5-id seri va mix ( hamun kharchangi misaze)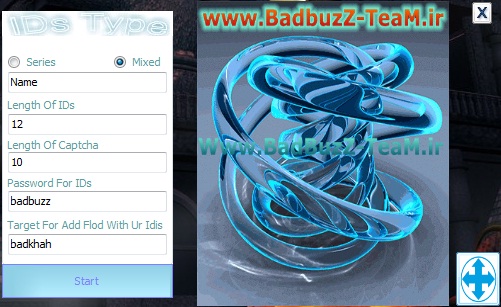 download
http://s2.picofile.com/file/7943766341/badbuzz_ninja_id_maker_new_version.rar.html
SCAN
http://virusscan.jotti.org/en/scanresult/0062f1c5727a099696a277e29a2e947b9b6c17b6
harki b badbuzz bad bine use nakone! hosele cherto pert nadaram! age b badbuzz etminan dari use Koη!
~~~~~~~~~~~~~~~~~~~~~~~
HI
this is new badbuzz id maker!
with capability:
1- load multi captcha image!
2- addflood ur target id with all create ids!
3- set profile on id for Prevention Block!
4- check all true ids and save!
5- create series id and mixed!
If you don`t trust us
Do not use
GOd protect u
Senior Member





Posts

: 901


Join date

: 2013-06-30


nimbuzz id

: mr.pitza@n.c


ASL

: hamid 24 male gorgan
Job/hobbies : faqat ye pesare ojgel hamin!!





Similar topics
---
Permissions in this forum:
You
cannot
reply to topics in this forum